15dec17:30BLONDE COBRAFestival for queer & experimental cinema17:30 Turistarama Event Organized By: SCHALTEN UND WALTEN Art der Veranstaltung:Festival
Event Details

17:30  Uhr

THE ORNITHOLOGIST
(João Pedro Rodrigues, F/BRA/POR 2017, 118 min)

When the ornithologist Fernando loses his bearings and contact with the outside world while out exploring in the wilderness, he comes across two female Chinese pilgrims, men wearing spirits of the forest costumes, a deaf and dumb shepherd called Jesus and Amazonian riders. Birds observe him. The deeper he ventures into the mythical jungle and loses himself in it, the more he finds himself. A sensual film inspired by the story of Saint Anthony filmed with Cinemascope and boasting a brilliant sound design. Rodrigues' films tell of transformations, polymorphous love and drifting identities with elliptical jumps, in parallel worlds full of fetishes and driven by the violent desire of the characters. Despite its stylistic artificiality, Rodrigues' work is anchored in reality.

 20:00 Uhr

AGAINST THE FUR

The program will open with a performance by Cologne-based artist Ale Bachlechner which will transform into the short film program AGAINST THE FUR revolving around motifs of nature, resistance, activism, and exoticized views.

Shortfilms:

PLEASE RELAX NOW – Vika Kirchenbauer, GER 2014, 12 min PANDA MOONWALK OR WHY MENG MENG WALKS BACK- WARDS – Kerstin Honeit, GER 2018, 8 min
MONIKA M. – Karin Michalski, GER 2003, 20 min
UNBOXING EDEN – NeoZoon, GER 2013, 5 min

Closing Ceremony with Cindy Moped , 15 min

BLONDE COBRA – filmseries for queer & experimental cinema – was established by Cologne based studio and art collective SCHALTEN UND WALTEN. With focus on experimental and queer aesthetics it links feature and artist film with performers, dancers and theorists and thus combining historical and contemporary film and art practices.The BLONDE COBRA winds around Emotion & Affect, Aesthetics of Performance, Ritual and Codes, The meaning of Style, Fetish & Love, Activism & Nature, Perversion & Theory and the question of what a queer aesthetic is (..could be, will be..) apart from its content and the economical structures of film production.
Tickets
Einzeltickets pro Programm 5€, erm. 4 €
Gesamtticket 13 €, erm. 12 €
Kein VVK
Nur Abendkasse – Kasse öffnet jeweils 30 min vor Programmbeginn
Die Veranstaltungsreihe wird gefördert vom Kulturamt der Stadt Köln.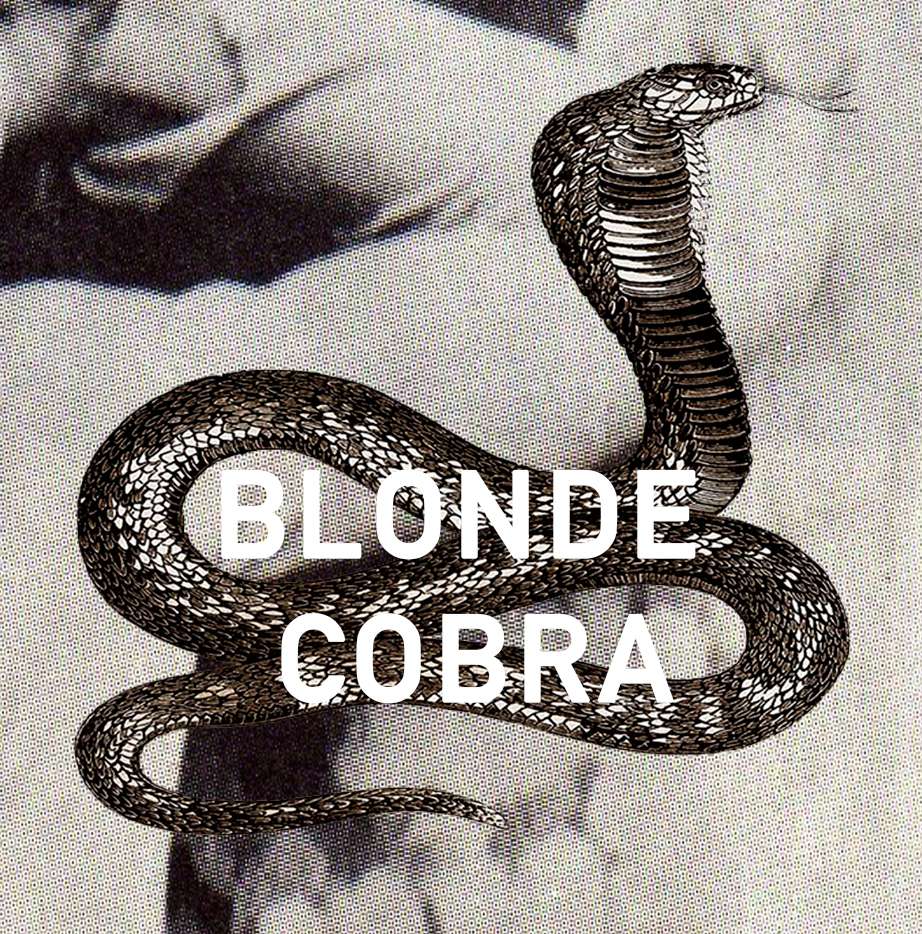 Webseite des Veranstalters